Every now and then I hear about someone remarkable and it restores my faith in humanity. Someone who has gone out on a limb to bring an issue to the table that needs to be heard. Someone who has seen a problem, and rather than it becoming a distant memory, has followed through and spoken out about it. Make no mistake, y
ou are the heroes amongst us.
I want to honour these good people who are out there making a difference. The everyday people who have contributed in a way that helps make the path a bit easier for the next person who comes along. To each and every one of you, thank you from the bottom of my heart. If I could clone you, I would! 
"Man becomes great exactly in the degree in which he works for the welfare of his fellow-men." - Mahatma Gandhi
Jesse Greenslade says "being different" made him an easy target for bullies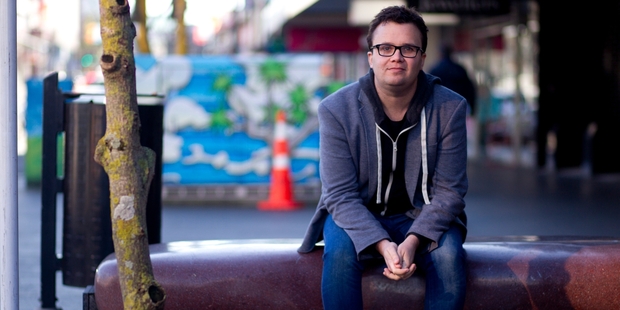 25-year-old Aucklander Jesse Greenslade has written an open letter to the Herald about being bullied as a child and teenager. Jesse says he was a target while at school because he did not fit in with the social norms. These days, Jesse works fulltime as an office manager for NetSafe in Newmarket and says life is "quite good". Certainly better than the torment he felt as a teenager. In writing this open letter, he wants to reach out and help others: "It is important to ask for help, but it is the hardest thing to do. You don't have to suffer in silence." - Monica Holt
I look in the mirror and wonder how I managed to survive the torture and humiliation I faced when I was a teenager. I ask myself, how did I do it? How did I manage to survive the cruel and unbearable years of being a teenager? Bullying started on my first day of primary school, and continued for 11 years. Eleven years of isolation, ridicule and humiliation. Eleven years of finger-pointing, being laughed at and being lonely. I looked in the mirror with my top off wondering why I didn't look like the other boys, with their muscular physique and athletic bodies.
When I was young I thought I had a demon. That demon is neurofibromatosis (NF). NF encompasses a set of distinct genetic disorders that causes tumours to grow along various types of nerves. This condition made it hard for me to participate in physical education classes because I was uncoordinated and a lot slower than other children. It also prevented me from learning as quickly as my peers. I learned over the years to accept this demon.
School years were hell, one of the scariest, most embarrassing, isolating and life-changing experiences of my entire life. I felt isolated, lonely; I had no friends, nobody to talk to. No teacher to support me, nobody outside my family was willing to listen or help.
All through primary school, I constantly felt judged for being me. I had no friends; I seldom spent time with anyone my own age, I felt pressured to conform, to be like the other children in my class; I was forced to do activities that I was not capable of doing.
Even though I had NF, which could limit my physical ability, the school likened me to others in my class, and was pushing me to be like them, punishing me for not being able to achieve, being disciplined for being different, being disciplined for not doing activities I was not physically able to do. Being reprimanded for being me was the greatest detriment to my character.
Intermediate school was tough. I was in an all-boys class. I felt different. I was not like other boys, I wasn't athletic, I wasn't macho. I had no friends, I was socially excluded. "Jesse you are a retard," they used to say.
Starting high school I was still socially isolated during and outside school. I would very rarely hang out with anyone. I was different to other teenagers. I never experienced what normal teenagers go through. This, for me, was the hardest part of my teen years. In Year 12 I started chemotherapy treatment. Strange as it may sound my life got better as a result of this. Having the opportunity to be part of CanTeen, an organisation that supports young people living with cancer, has given me experiences and training opportunities that I never thought I would be able to experience. They supported me when I was down, and during the hard times gave me skills to overcome being stigmatised for being different.
Recently diagnosed with a condition called hyperprolactinaemia, has added more insult to injury. Added more complications to my health.
I tried to bottle up situations of grief and anger from the past few years; this hasn't helped my recovery. Why is it that in life you always need to explain your feelings or reasoning to others? Why can't they just listen and be at peace with your feelings and aspirations?
NF has its challenges, but I believe it has made me who I am today. A person with love and empathy towards others. A person with understanding that is willing to help and support people.
People often refer to a medical condition as a disadvantage or a punishment. I see it as a reward, that I had an understanding of diversity. Life for me is like a book in which each page and chapter holds something different, a new story or adventure.
To all the teenagers out there who have been bullied or are being bullied, you are not alone.
Stand strong and fight for what you know is right. You are not alone and you will get through this, be proud of who you are.
What you are experiencing is only temporary. Talking to someone and being honest about what is going on can change the situation you are in. And to the bullies, next time you judge someone or stick a label on that person think about their situation and about what you are about to say or do. Your next action could have an impact on their life forever. Some scars do not heal.
Young people reading this who have had a hard time at school with bullying or who may be fighting with depression need to push on.
Asking for help or talking about your feelings is the last thing anyone can do for themselves.
I am hoping people reading this feel inspired that anyone is able to overcome having their mana trampled, having their actions and themselves scrutinised.
Shontayne Hape - Star's courageous brain-injury battle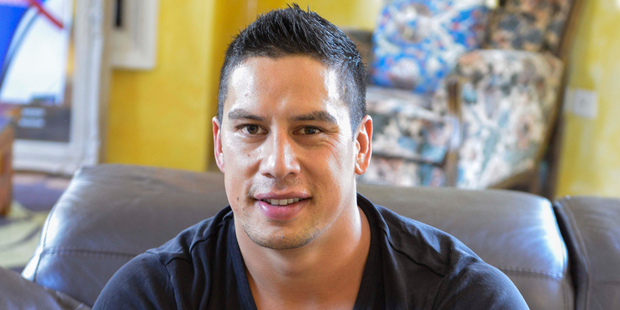 Kiwis and England star Shontayne Hape has been forced into retirement and left fearing for his mental health after suffering repetitive head trauma during his glittering rugby and league career.
Auckland-born Hape, who played 14 league tests for the Kiwis and 13 rugby tests for England between 2004 and 2012, says he suffered over 20 concussions during his career, resulting in constant migraines, sensitivity to light and sound, irritability, memory loss and depression.
The 33-year-old, whose wife Liana is due to give birth to the couple's fourth child any day, last played for Montpellier in the French top 14 competition last year. After suffering three concussions during a single season he underwent tests that revealed his brain function was just above that of someone with special needs.
"Things had got so bad I couldn't even remember my PIN number," he said. "My card got swallowed up twice. My memory was shot. Dosing up on smelling salts, Panadol, high caffeine sports drinks and any medical drugs like that to try and stop the dizziness, fatigue and migraines was the only way I could get through trainings and matches."
Hape said that professional rugby players in both codes frequently endangered their health by under-reporting concussion symptoms.
He hoped sharing his experiences - which he details fully in today's Weekend Herald - would help prevent young players making the same mistakes he had.
The pressures on players to play on through injuries were immense, he said.
"When you come to a new club and you are an international player you are supposed to impress. I was on one of the biggest contracts of my career [at Montpellier], so there was a load of pressure to deliver. You don't want to let anybody down. You get paid to get out there and play and you want to play. You never think [anything bad] is going to happen to you, so you do it."
He also blames the club system in the professional era.
"Players are just pieces of meat. When the meat gets too old and past its use-by date, the club just buys some more. You get meat that's bruised or damaged, the club goes and buys some more."
The brain trauma he suffered on the rugby field had damaged his personal life by affecting his ability to function as a father and husband.
"My tolerance for my three young kids was zero. I was always angry around them, couldn't even last a minute without getting cross and losing my cool. My relationship suffered."
While many of his concussion symptoms have cleared, Hape still fears for his future health.
"I can remember things that happened a long time ago but things that happened yesterday, people's names, numbers and stuff, I constantly forget. Growing up I used to wonder what was wrong with my granddad when he couldn't remember things. I'm not a granddad, I'm in my 30s. I've got the concentration span of a little kid.
"I worry about Alzheimer's and dementia. The doctors can't tell me what is going to happen to me."
Pre-season cognitive tests designed to help detect concussion were ineffective as players often manipulated the results to avoid being stood down, he said.
"Young players don't fully understand the risks of playing on with concussion. The most dangerous thing with concussion is that's its an injury you can't see. That makes it easy to ignore - something that happens far too often."
Player says he and others cheated in cognitive tests
Professional rugby players routinely manipulate the results of tests designed to stop them taking the field while concussed, says Shontayne Hape.
The former dual league and rugby international said he manipulated baseline pre-season cognitive tests and under-reported concussion symptoms during his 13-year professional career, something that was never detected by the clubs or national bodies he played for.
The admission - the first by a player of Hape's stature - comes as rugby and league authorities have been trumpeting their progress in dealing with concussion issues.
Hape said the computerised test widely used throughout the rugby world was often ineffectual - a claim backed up by a leading concussion expert.
"You have a test at the start of the season but the boys [fellow players] all know how to beat it," Hape said. "You don't do the test to your full ability. You know that when you get knocked out you are not going to be as good and that if you don't beat your score you can't come back. Everyone wants to come back, so you beat it."
Hape, who has not played since suffering severe concussion symptoms playing for Montpellier in the 2012/13 season, has retired on medical advice.
Concussion expert Rosamund Hill said senior rugby players within New Zealand had also admitted to intentionally under-performing during baseline testing.
"I have heard that from senior-level players, who I will not name, that you don't want to do too well in the pre-season testing because it doesn't give you much room if something happens," Dr Hill said.
An international player who Dr Hill evaluated at the 2011 Rugby World Cup two days after he had been knocked unconscious in a match had claimed to be free of concussion symptoms.
"He didn't look well and I didn't believe him," Dr Hill said. "The problem is you can't rely on the player in that position to be completely honest. That's understandable. It's their career. They want to play and they don't appreciate the risk to their health.
"They are understandably desperate to get back on the field. This is the pinnacle of their career. You know they are under-reporting."
Computerised baseline tests such as those employed in professional rugby and by the NRL could actually end up being counter-productive if players did not return accurate results, she said.
"It is worse than not having been tested at all because the medical professional that is looking at it is getting the wrong idea."
A foolproof neuropsychological test could be employed but it was time-consuming and expensive, so only tended to be used when players had already been diagnosed with concussion symptoms.
New Zealand Rugby insisted its concussion detection processes were robust.
"We are very confident that the processes we have in place in regard to baseline testing and in-season assessment of players safeguard against attempts to disguise concussions," medical director Dr Ian Murphy said.
Warriors doctor John Mayhew said he doubted New Zealand-based players intentionally manipulated the results of concussion tests.
"In the very old days when it was a pen and paper test the players would do that," Dr Mayhew said. "Now, if somebody tried to do that we'd suddenly have an artificial result - we'd say for a 26-year-old guy this test is crap. He might have cheated it but I'd be surprised if it wasn't picked up. The test is good enough to pick up when someone is deliberately trying to make a cock-up of it.
"We are not having the issue [Hape] is talking about. I'm not naive enough to think people don't [try to cheat the tests]. I've had people try to do that, but I think generally you'd pick up that something had gone wrong."
Peter Hughes: We must all play our part to wipe out bullying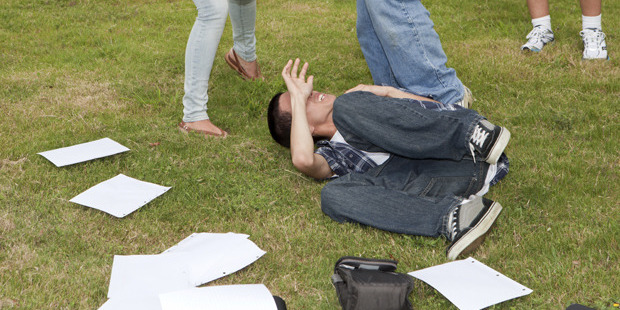 When I was growing up, bullying at school was a fact of life, almost a rite of passage. If you complained about it, you were told to toughen up. 
I saw some pretty terrible things done to other children, and I know for a fact those things had a lasting impact on those lives. 
It's good that today we don't accept that anymore, and that parents listen when their children complain of bullying. 
But we still have a long way to go before we eliminate bullying - from our schools, and from our culture.
The problem of bullying in schools is one I've become increasingly concerned about which is why, last year, I brought together a range of education and social sector leaders to set up the Bullying Prevention Advisory Group. Children who are scared or hurt can't learn well.
The group has written a how-to guide on preventing bullying and dealing with bullying complaints. The guide was launched last week and has recently gone out to schools.
It's a mark of how seriously bullying is now viewed that Children's Commissioner Russell Wills, Chief Human Rights Commissioner David Rutherford and senior representatives of principals, teachers, school trustees, police and NetSafe joined our advisory group.
The guide advises that all incidents should be treated as serious. Schools are also encouraged to promote a "safe telling" culture in which students can report all bullying through confidential reporting. Parents, teachers and students should be involved in developing bullying prevention policies.
All bullying needs to be dealt with - whether it occurs inside or outside the classroom. One suggestion in the guide is that schools survey their students on how safe they feel, and use the responses to work on improvements. The guide also advises schools to teach staff to recognise and to respond to bullying, and shows them how to go about that.
Schools also need to know when to escalate their response by seeking advice from outside the school, from the Police, Child, Youth and Family or from NetSafe on cyber-bullying.
The internet is a new frontier where children and young people can be subjected to aggression. One approach is for classes to develop "class contracts" with students that include agreements on appropriate behaviour online and on cellphones, including outside school time. I have asked Patrick Walsh, representing secondary principals, to chair a cyber-bullying group drawing up a plan for schools on handling this issue.
A key part of the bullying picture is the school culture, and that's where another programme is playing a positive role in more than 500 schools. The Positive Behaviour For Learning programme focuses on treating difficult and aggressive behaviour in constructive ways. That includes providing opportunities for kids to be caring and helpful towards each other.
At Naenae Primary School in Hutt City, which uses the positive behaviour programme, principal Murray Booten has spoken of the change in atmosphere at his school.
"We've gone from a situation where children were looking over their shoulder to see who was going to get them next, to now, where we have very few incidences of bad behaviour," he has said.
By 2017 more than 800 schools are expected to be using the positive behaviour programme.
However, these initiatives are just first steps. There are no quick fixes. Bullying is not something the ministry and schools can change by themselves. It's also about parents and communities noticing when something is wrong, and taking responsibility for doing what they can do.
If we all play our part, we have a good chance of fixing it and of preventing the lifelong damage that bullying inflicts.
Peter Hughes is the Secretary for Education.